Hanging out with Brazil's OG modernist architect.
In the 1950s, Brazil decided it would be a perfectly reasonable idea to move the capital to the center of the country's interior plateau (read: nowhere). To facilitate this sensible endeavor they enlisted Oscar Niemeyer – an ardent communist and proponent of modern architecture who, alongside his buddy and erstwhile adversary Le Corbusier, had co-designed the UN building in New York – to build a crazy spacepod city in the middle of the planalto.
Having spent his youth in Rio's bars and brothels and his father's printshop, Niemeyer came to architecture with a sensuality and hedonism that looked freakish next to the angular designs of much of the Modernists. He had already designed most of the buildings in São Paulo's Ibirapuera park, inaugurated in 1954, when the newly elected President showed up at his home, insisting that he help with the new capital, Brasilia. The city would provide Niemeyer the perfect template to test out all the theoretical business he and his more adventurous colleagues had been cooking up for the past two decades. In the process he would become responsible, more than anyone else, for defining the look of modern Brazil. He wouldn't rest on his laurels; he continued working right up until his surprisingly spritely final years. After suffering from the flu, he died yesterday, just shy of his 105th birthday.
Together with urban planner Luis Costa, Niemeyer designed for Brasilia a functionally integrated city full of massive concrete mushroom buildings and swooping aluminum spires and twisty overpasses and futuristic skyways and symbolic edifices and designated "sectors" where no one would ever have to watch out for traffic or wait at a stoplight. Envisioned by Niemeyer as a socialist utopia made with dancing concrete, it's Corbu on steroids and on a tropical vacation, the bastard child of Alphaville and Albany, NY, but with much more jazz than Eisenhower's suburban America could have imagined. It wasn't what most would consider human-friendly urbanism today, but it's a marvel to behold up close (and from space: it looks like a butterfly from above), and makes the plans of most Middle Eastern emirs and Communist cadres look like kid's stuff, a voluptuous monument to a future that very nearly came.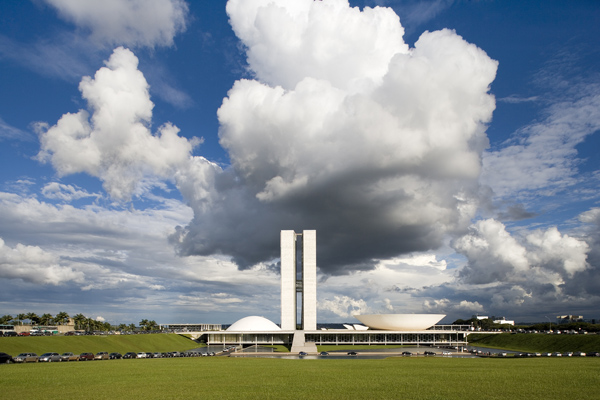 Built in four years – and containing about half a dozen masterpieces by Niemeyer – it sealed his reputation as one of the century's most influential architects and certainly its most influential Brazilian. Then an anti-communist military junta seized control of the country and kicked him out.
He lived in exile in Paris, a city that catered to his socialist and modernist leanings, and picked up a Pritzker Prize, before returning to his homeland in the 1980s. Perhaps because he got a late start – he designed his first building at 39 – until his final years, Niemeyer stayed as spry as an old silver sports car with gull wing doors. In 2010, his Auditorium Ravello opened on a cliffside along the Amalfi Coast in the Italian city of Ravello, a decade after he completed his spectacular Contemporary Art Museum in Niterói, Brazil. Among other recent accomplishments: he designed a statue for Fidel Castro's 80th birthday, unveiled a new furniture line at Art Basel Miami, and a few years ago, married his longtime secretary, Vera Lúcia Cabreira. At the end, he was working on designing The Holoteca, a library focused on consciousness and the paranormal.
For Brasilia's 50th birthday party in 2010, the authorities decided the parade would include floats of Disney characters. That didn't please Niemeyer. "After Brasilia was inaugurated, the men with money, with capital, arrived and everything changed. The most detestable individuality and vanity arrived and the habits gradually changed, acquiring those of the bourgeoisie that we condemn," he told Folha de Sao Paulo newspaper. He said he doesn't think that architecture can change the world like a single protester can. And that heroic architect thing was never his intention. "We have to be simpler, just have to be more useful," he told us. "That's it."
-- with Santiago Stelley.
(Editors note: A section of this story originally ran in 2011.)