The Congressional Black Caucus Is Asking Silicon Valley Why It's So White
The political organization sent a letter to technology and telecommunications lobbying groups about diversity last month.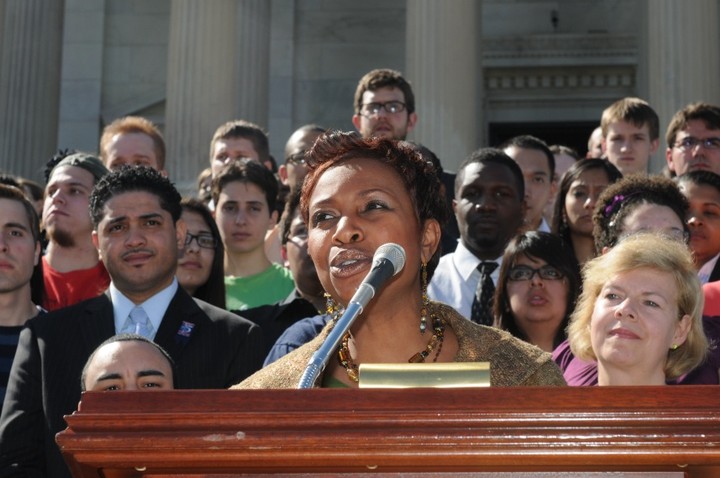 Congressional Black Caucus Member-At-Large Yvette Clarke. Image: Wikimedia Commons
Silicon Valley is being asked to reckon with diversity issues by the Congressional Black Caucus. The political organization sent a letter to technology and telecommunications lobbying groups last month, amid ongoing debates over equality in these industries.
"We write today to express our concerns with the diversity recruitment efforts of the member companies within your associations," the February 22 letter stated.
"As you are aware, the communications industry serves as the connection point for all Americans often driving our daily lives at home, school, and work while stimulating the economy by adding close to $1 trillion a year… it is imperative that the communications workforce reflects its consumers who drive the industry, especially African American consumers," the caucus wrote.
The Congressional Black Caucus targeted four lobbying groups: The National Cable & Telecommunications Association, US Telecom, CTIA, and the Internet Association. The latter has lobbied on behalf of Amazon, Facebook, Google, Netflix, Twitter, which are some of the most influential companies in the technology and telecommunications sectors.
African Americans are underrepresented at nearly every large technology company, according to company-reported diversity data. A comprehensive study by Pew Research Center this year found that 62 percent of African American men and women in STEM fields reported racially-motivated discrimination.
The caucus asked to know how many African Americans served on the Board of Directors for these groups and their member companies; what their recruitment process was like; how many African Americans comprised senior leadership; and for data on African American employment within these groups and their member companies.
Technology giants like Facebook and Twitter have been in prominent discussions with the Congressional Black Caucus about diversity since 2017. And Google is currently being sued by former employees who allege the company did too much, and simultaneously not enough, to encourage a diverse workforce.
As part of the caucus' Tech2020 campaign, which aimed to boost African American employment and leadership throughout Silicon Valley, these companies, including Lyft, Airbnb, and Uber were visited by Democratic Reps. Barbara Lee and G.K. Butterfield last October.