Here's a Bubble Chart of the Most Popular Dog Names in NYC
We already looked up all the swears.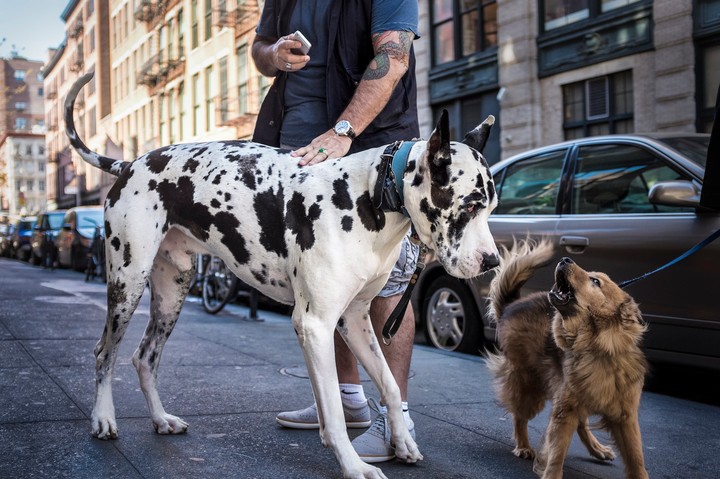 Flickr/Aurimas
There are two dogs in New York City named "Pee," and two named "Poo." Someone called their pooch "Satan," while 210 New Yorkers called their dogs "Angel."
This is according to a NYC Government data project that's been making the rounds on Twitter today. It seems to be pulling information from the city's Department of Health and Mental Hygiene, which requires all new dog owners to license their pet for a small fee.
(Click here to play around with the chart.)
Every year, the department releases a fun data visualization like this. It's unclear which year this particular map corresponds to, but this month, the government released another map of popular dog names sorted by neighborhood.
"The agency's dog license records showed that in 2016, 1,358 Bellas were registered, followed by 1,268 Maxes, 868 Charlies and 652 Cocos. A closer examination of the data reveals several interesting patterns: New Yorkers like to name their dogs after fruits, vegetables and spices, such as Ginger, Pepper, and Olive. Dogs were also named after other animals—there were 308 Bears, 104 Tigers and 75 dogs named Moose in 2016," the city said in a press release.
There are currently 87,031 dog licensed in New York City, but in 2010, the Department of Health and Mental Hygiene estimated that 80 percent of dogs had not been registered. Full disclosure, I lived in Brooklyn for two years with my dog, and I can't recall if I ever got her licensed. Sorry! (The map does show two dogs named "Bruna," like mine, so it's very possible I did.)
"The law is that every dog 4 months or older in New York City must be licensed. The money that we collect from dog licensing fees helps support our animal shelters in New York City and Animal Control services," Norma Torres, an employee at the department, told CBS New York.
Licensing your dog doesn't only contribute to cool projects like this, it also makes it easier to find your furry pal if they become lost. And it's mandatory for anyone who wants to use one of New York City's many neighborhood dog runs.
Oh, and for the two people who called their dog "Trump," the city allows you to update your information if you ever decide to change their name.