Why Millions of Brits Won't See Facebook's Tips to Fight Fake News
By only running in broadsheets, the advert is missing wide swaths of the population.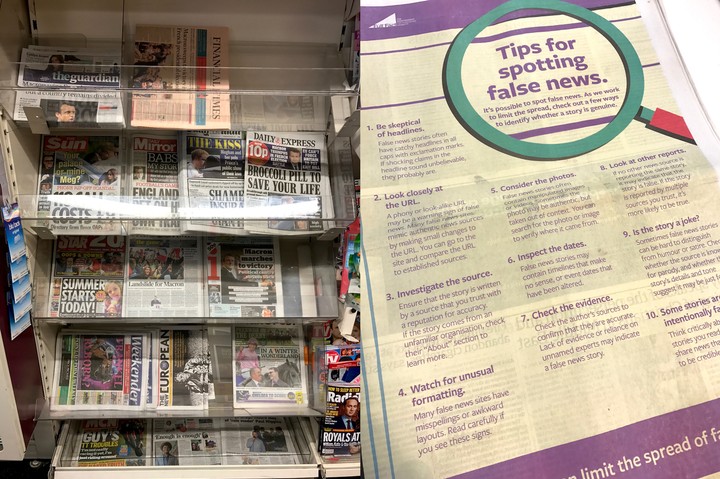 Facebook is committed to fighting fake news. We know it's committed to fighting fake news because it's told us over and over again. But this time we really know it's committed to fighting fake news because the company is forking out a share of its billions in exchange for full-page newspaper adverts in a handful of Britain's broadsheet newspapers—just one month before the country heads to the polls in a snap election on June 8.
The Daily Telegraph, The Times, The Guardian, and London's Metro newspaper will all run Facebook's 'Tips For Spotting False News' advert, which gives readers ten tips on spotting insidious false news on Facebook. Tips include: taking a closer look at the URL of a story and checking a story's source to see if the information is credible.
The tips are helpful, sure, and they offer a comprehensive guide to spotting fake stories running up to the snap election. "To help people spot false news, we are showing tips to everyone on how to identify if something they see is false," the Financial Times quotes Facebook's director of policy for the UK Simon Milner as saying.
Except the ad is not being shown to everyone. Facebook's advert is not running with the majority of Britain's most-read newspapers like The Sun and the Daily Mail.
By only running with The Daily Telegraph, The Times, The Guardian and the London-centric Metro, which together have a combined circulation of only around 2.7 million, the adverts will fail to land with entire swaths of Facebook-using British newspaper readers. Around half of the UK's population has a Facebook account, some 30 million people.
The ads are not running in the Daily Mail or The Sun, which combined have a daily circulation of more than three million British people, according to the UK's Audit Bureau of Circulation. The Daily Mirror is also not running Facebook's advert, missing almost one million more readers. British tabloids the Daily Express and the Daily Star will also not feature the ad. That's another one million readers missed. Tabloids still hold a phenomenal amount of swinging power in the UK, especially in politics, so why isn't the ad running in them if Facebook is serious about stamping out fake news ahead of an election?
"Seems to me that Facebook is just placating liberal institutions with these ads, not trying to solve any problems," one journalist pondered with me. "Can only guess that they are more interested in influencing the debate rather than anything else and targeted the papers that are more like to cover this sort of thing?" another senior journalist told me via email.
A Facebook spokesperson told Motherboard on the phone than the team behind the campaign are currently unavailable as they're flying to San Francisco and unable to comment.
Read more: Facebook's Creepiest Search Tool Is Back Thanks to This Site
By taking out offline newspaper adverts, a tactic also used in Germany and France, rather than just solely relying on algorithms to quash fake news and delete bogus accounts, Facebook has shown it knows the issue runs far deeper than just fake accounts and clickbait headlines. By running adverts specifically targeting Facebook's users, the company has admitted fake news is—at its core—a problem with the public itself.
Thus, creating awareness surrounding fake news among the public is half the battle. It simply doesn't make sense to not hit as many users as possible with these helpful tips. Facebook needs to go hard on solving the issue of fake news it has in part created, and to stop apologizing again and again for what is essentially its business model.
Subscribe to Science Solved It , Motherboard's new show about the greatest mysteries that were solved by science.