Just because astronauts are brave enough to sit of top of a rocket and spend months outside of the protective cocoon offered by the Earth's atmosphere doesn't mean they don't want homely comforts in space. Since the Mercury program, astronauts have been taking personal items on missions. And there have been some interesting items over the years.
Typically, astronauts are sent with items specified by NASA or some other institution. Space is, after all, a public relations business as much as a technical endeavour. Gifts the space agency plans to give other organizations or nations, and items that various groups ask astronauts to take into space on their behalf.
The

STS

-135 crew gave the International Space Station the flag carried up on

STS

-1, 2011.
The most common flown items are the classic memorabilia: pins, patches, and flags. During the STS-135 mission, commander Chris Ferguson gave the ISS crew the flag John Young and Robert Crippen had carried into space on STS-1. It's still up there on display in the ISS and won't come down until a crew launches from US soil to retrieve it. Once back on Earth, that flag will accompany the first crew to embark on a mission beyond Earth's orbit.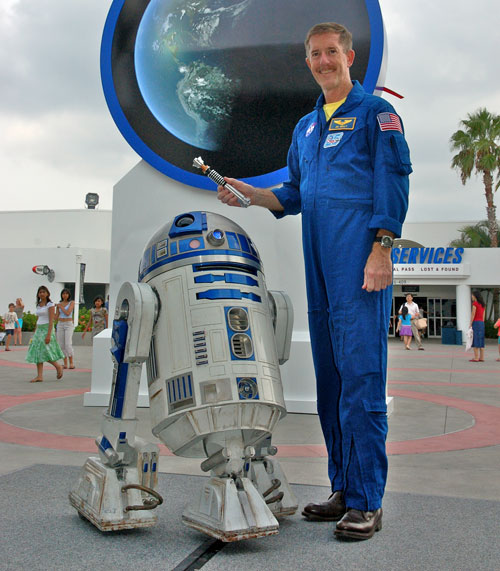 Jim Reilly took the first prop lightsaber to space in 2007.
Items noteworthy for their historic significance have also been a staple of astronauts' cargo. A piece of wood from the Wright brothers' 1903 airplane went to the Moon with Apollo 11. A 1611 lead cargo tag from Jamestown colony went up with the STS-117 crew in March 2007 to honor early American explorers; four coins were also part of the historic haul. Seeds accompanied the Apollo 14 crew to the Moon and were later planted and grew into the "Moon Trees" in celebration of the 1976 bicentennial. Some noteworthy items are more on the nerdy side like Luke Skywalker's lightsaber prop from The Return of the Jedi that the STS-120 crew took up in October 2007. A conductor's baton for the Boston Pops Orchestra and Beethoven sheet music have also gone into orbit. It's not NASA, but Japan Aerospace Exploration Agency flight engineer Satoshi Furukawa brought enough Legos to the ISS last Fall to make a Lego replica of … the ISS (top image).
And speaking of music, astronauts do take iPods into space. They're sort of perfect: tiny, but can store pictures, music, books, and a whole bunch of other stuff. The problem is that the batteries aren't certified in space. So NASA retrofits iPods with converters that use AA batteries.
iPod, 2007.
In 2008, astronauts carried three green NASCAR starter flags into space. The Daytona International Speedway celebrated its 50th year running the Daytona 500 the same year NASA celebrated its 50th birthday. Also that year, Astronaut Garrett Reisman, a fervent Yankee fan, brought a banner and hat autographed by team owner George Steinbrenner, as well as a small container of dirt from Yankee Stadium. (He also threw out the ceremonial first pitch via video from the International Space Station at the start of the Yankees' game versus the Boston Red Sox on April 16, 2008.) Not to be outdone, New York Mets fan Mike Massimino carried the home plate from Shea Stadium into orbit on space shuttle Atlantis' STS-125 mission – the last trip to the Hubble Space Telescope – as the Mets were preparing to demolish the stadium and move into nearby Citi Field.
Top: three

NASCAR

starter flags, 2008; bottom: Mike Massimino practicing an extra vehicular activity with Shea Stadium's home plate, 2009.
Wedding rings are another popular personal item. Some astronauts wear their rings on necklaces since fingers can swell in microgravity. Apollo 13 commander Jim Lovell didn't. Instead, he had his gloves made so he could wear his Naval Academy ring in space. Apollo 16 command module pilot Ken Mattingly almost lost his wedding ring during an EVA between the Earth and the Moon, but some strange physics intervened. The ring floated out of the spacecraft, bounced off a piece of hardware, then went right back inside.
In 1961, Gus Grissom took a roll of dimes on his Mercury flight but they sank with the capsule after the hatch opened prematurely after splashdown. When divers recovered the capsule in 1999, they found the dimes. Seven are now on display at the Kansas Cosmosphere and Space Center.
A lead tag bound for the Jamestown colony
in 1611 was taken to space in 2007.
In 1992, NASA celebrated Star Trek's creator, Gene Roddenberry, by asking astronauts to carry the sci-fi legend's ashes inside a small capsule on the space shuttle Columbia's STS-52 mission. The ashes came back to Earth with the shuttle, and were later sent back to space, this time for good, by a company that specializes in space burials.
Some less classically commemorative, though no less meaningful, articles have also made their way into orbit. Anticipating unpalatable space food on his Gemini 3 mission in 1965, pilot John Young snuck a corned beef sandwich on board for him and commander Grissom to split. But crumbs became a hazard. It was a good sandwich, but not good enough to risk clogging the spacecraft's instrument panel. Back on Earth, Young was reprimanded.
John Young and Gus Grissom, 1965: "Don't know anything about any sandwiches."
The Apollo 12 backup crew famously sent the mission's prime crew to the Moon with porn on their wrist checklists. (A Playboy calendar went up for auction last year.) On the same flight, commander Pete Conrad snuck matching beanie caps aboard for the crew to wear during the flight. His own featured a propellor on top.
In Alan Bean's wrist checklist for lunar exploration during Apollo 12: DeDe Lind, Playboy's Miss August 1967.
More traditional inflight entertainment has also made its way into space recently. Astronauts have taken the whole Firefly series, the movie Serenity, and at least the episode of The Simpsons where Homer smuggles a bag of chips onto the space station – "Deep Space Homer" – to the space station.
Astronauts aboard the ISS have even started bringing iPhones to space – for business purposes of course: they use the custom-built iPhone app SpaceLab to monitor experiments. Angry Birds was not included, SpaceLab's developer said: "We don't want to compromise astronauts' time."
While NASA generally makes it hard to take iPhones and iPods to space – and, as game designer-cum-astronaut Richard Garriott recently discovered, to play Internet games – the agency has no explicit prohibition on computer games in general. As one astronaut admitted to a sixth grader during a Q&A in 2009, astronauts use the many laptops aboard space station to get their game on. "A few years ago when I was up here for six months I had a video game that I used to play in my spare time," he told his young inquisitor (and the President of the United States, who was on the line). Unfortunately, we don't have much spare time."
Spare time might need to be, ahem, adjusted of course, if Dead Space or Angry Birds makes it up there. In March, NASA smuggled another unlikely and historical cultural artifact to the space station: the agency's first marketing campaign for a hit iPhone game.
Don Petit on the International Space Station doing an educational demonstration with an Angry Bird, 2012.
Connections: