First of all, you can't simply become a cyberpunk. And not now. Certainly not now, not that cyberpunk is everywhere.
But close your eyes, put on your VR goggles, and return to the early 90s – for a Shadowrun LAN party or a Snow Crash reading group or even for a Hackers screening – and contemplate the edges of cyberspace, the loose agglomeration of high tech that was growing around and expanding the boundaries of "the real world." Those boundaries were policed more seriously by some within the sub-genre than others, and yet the essence of cyberpunk was always about blurring the edges: "for the cyberpunks…technology is visceral," Bruce Sterling wrote in his preface to the anthology Mirrorshades. "It is not the bottled genie of remote Big Science boffins; it is pervasive, utterly intimate. Not outside us, but next to us. Under our skin; often, inside our minds."
For all of its gloom, cyberpunk contains a muted optimism too, a utopian idea that ruins and scaffolding are the perfect materials for a new system. "Science fiction is liberation," wrote Robert Anton Wilson in his introduction to the 1989 Semiotext(e) SF issue (he described himself as "ever eager for new dimensions of insanity"). "Reality in the old Aristotelian sense is a crutch for those who are afraid to walk alone on their own feet, above the Abyss that yawns when we begin to break our mental sets and pause to wonder–really wonder."
But something broke in the mix of drugs and sex and leather-clad hacking. In the slippage from underground to Billy Idol, from sub-culture to fashion, from present to future, the movement evaporated. Or maybe it just "evolved into birds.".
Or maybe, d00dz, it's still alive in cyberspace. Below, a small sliver of interesting and possibly dubious digital ephemera for your cyberpunk toolkit.
Rudy Rucker on the early heyday of cyberpunk:
"I started getting mail from a younger writer in Texas called Bruce Sterling. He'd written glowing reviews of Spacetime Donuts and White Light in a weekly free newspaper in Austin—he was one of the very first critics to appreciate these books. Soon after this, Bruce began publishing a zine called Cheap Truth.
"Bruce loved all things Soviet—it wasn't that he was a Communist, it was more that he dug the parallel world aspect of a superpower totally different from America. He spoke of Cheap Truth as a samizdat publication, meaning that, rather than printing a lot of copies, he encouraged people to Xerox their copies and pass them from hand to hand." Read more at Rudy's blog.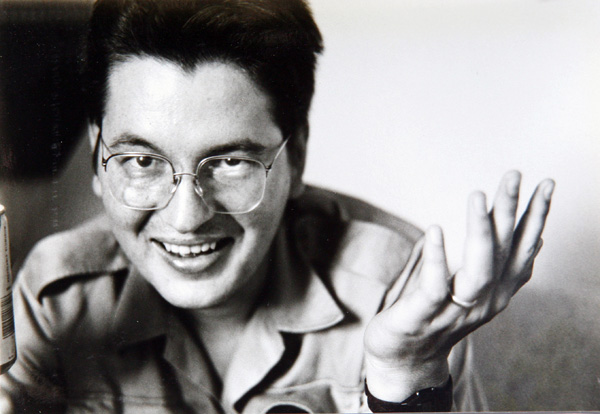 Full archives of Sterling's seminal cyberpunk zine, Cheap Truth:
"For those familiar with [Jack] Vance's work, the effect is odd and disquieting, like seeing a favorite uncle stumble in, blasted on bad acid and mumbling cosmic obscenities. There are supernatural horrors here that make Cthulhu and his boys look as tame as pinstriped bankers. Hell itself, its denizens and environs, are captured with a revolting nicety of detail and expression that makes you wonder for the author's sanity." From issue one.
A documentary on cyberpunk:
Bonus animated
GIF

from the documentary:
Gareth Branwyn's Cyberpunk Manifesto:
"J) Some attitudes that seem to be related:
- Information wants to be free.
- Access to computers and anything which may teach you something about how the world works should be unlimited and total.
- Always yield to the hands-on imperative.
- Mistrust Authority.
- Promote Decentraliztion.
- Do It Yourself. Fight the Power.
- Feed the noise back into the system.
- Surf the Edges."
Read the whole thing
Semiotext(e) SF, 1989, a "fucking crazy anthology," including "The Temporary Autonomous Zone" by Hakim Bey:
"Whether through simple data-piracy, or else by a more complex development of actual rapport with chaos, the Web-hacker, the cybernetician of the TAZ, will find ways to take advantage of perturbations, crashes, and breakdowns in the Net (ways to make information out of "entropy"). As a bricoleur, a scavenger of information shards, smuggler, blackmailer, perhaps even cyberterrorist, the TAZ-hacker will work for the evolution of clandestine fractal connections. These connections, and the DIFFERENT information that flows among and between them, will form "power outlets" for the coming-into-being of the TAZ itself – as if one were to steal electricity from the energy-monopoly to light an abandoned house for squatters.

"Thus the Web, in order to produce situations conducive to the TAZ, will parasitize the Net – but we can also conceive of this strategy as an attempt to build toward the construction to an alternative and autonomous Net, "free" and no longer parasitic, which will serve as the basis for a "new society emerging from the shell of the old." The counter-Net and the TAZ can be considered, practically speaking, as ends in themselves – but theoretically they can also be viewed as forms of struggle toward a different reality. Get the journal at Amazon.
EFF's Net Culture "Cyberpunk" archives, including this 1993 article on Japan's "otaku" subculture in the first issue of Wired:
"Zero casts them aside to read one from Batman in Nagoya who claims that the Thunder Dragon and Metal Black video games employ the same game-matrix with different graphics and scoring systems. Seventeen pages of notes support this hypothesis. Zero is not impressed. He's known this since Metal Black hit the market way back last Tuesday.
"Zero gets busy. He disseminates a warning through his computer modem that flashes on terminals from Hokkaido to Kyushu. He warns other otaku on the Eye Net computer network to be on the lookout for some poser named Batman pushing stale info. For those few moments – as Zero's invisible brethren attentively scan and store his transmitted data – he is no longer a wimp. He's a big gun, a macho man in the world of the otaku." Read more
Tokyo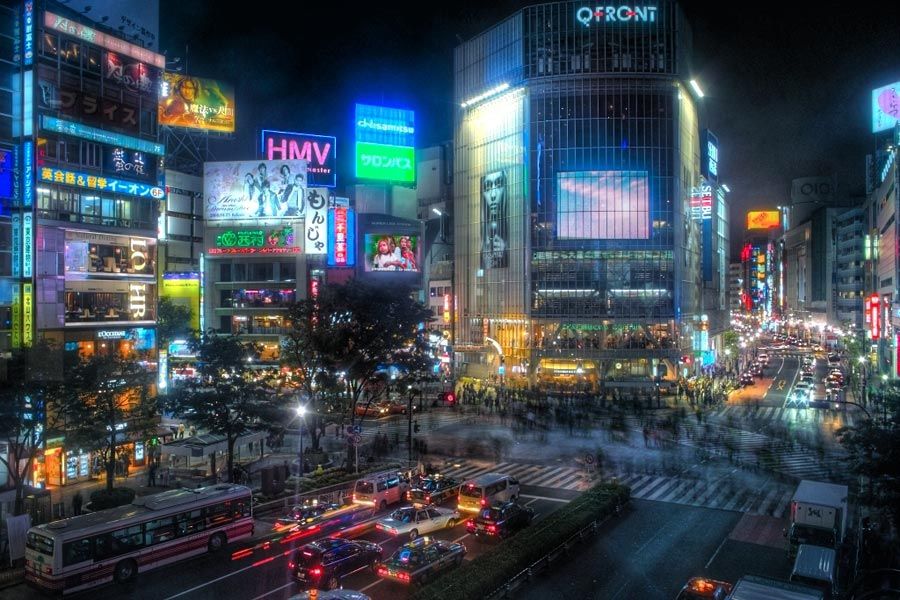 Apocalyptic goth fashion
"In the world today, looking slick and smooth is everything. Having the latest chromed cyberoptics or the coolest tech hair means that you are not just another one of those chumps on the streets. To be able to strut into the local nightclub with a leather jacket, glowing tattoo, fangs the size of a bullet and nice new shiny cyberarm shows that you ain't one of those thugs on the street looking for their next hit but you truly know the essence of being a cyberpunk. Looking as though you can take down 20 solos in the blink of an eye makes people treat you like the man, and when people treat you like the man that means respect. Sure you need some function to your cyberware but if you walk around the street with a huge Arasaka Light 20mm cannon on your armoured shoulders it is like having a huge neon sign above you saying 'Hey, I am a solo – shoot me!'"From Cyberpunk.ru
See more fashion tips at TGDaily and get your clothing at Sludgefacktory.
A web version of "Beyond Cyberpunk," the 1991 HyperCard stack that inspired Billy Idol to make his album, Cyberpunk: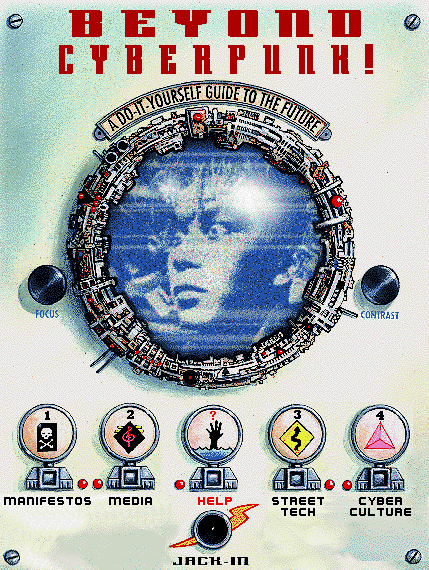 Beyond Cyberpunk
"High-Tech Nomadness is literal street tech. In this essay, the nomadness guru himself, Steve Roberts describes what motivates his unique alternative lifestyle. Steve believes that nomadness represents a very desirable option for anyone who wants to travel and explore while maintaining continuous friendships and business connections. Steve is probably one of the first people to realize that with the advent of cyberspace, you can do this quite successfully. He works, socializes, conducts business, and continues to stimulate his sizeable curiosity, all from the seat of his cyber-vehicle. It's wild, it's wacky, but in some unsettling way, it makes total sense. Hit the road, Jack — meet you in cyberspace!" From Hit the Road and Jack In: High Tech Nomadness by Steve Roberts. Read more.
"Shock to the System" music video, Billy Idol, 1993:
Timothy Leary Interviews Billy Idol about "Cyberpunk":
"Timothy Leary and Billy Idol see 'cyber' as a way for people to know significantly more about how the world works, and then later subvert oppression. Billy Idol discusses a small amount of the technology behind the Cyberpunk album. He notes about how it was completely produced on a computer. Timothy Leary sees Billy as 'Creating his own reality.'" -from ABC's "In Concert" series.
Rollerblades and metal fingers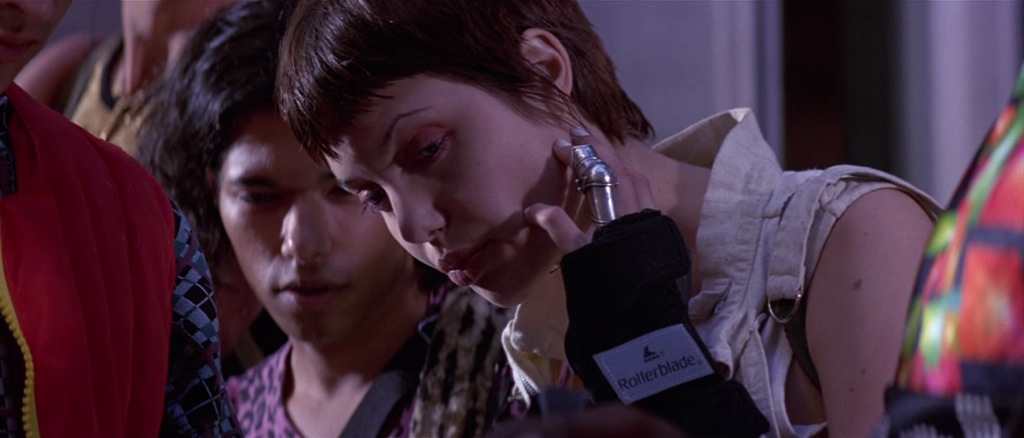 From the Cyberpunk style guide
R.U. a Cyberpunk?
from a 1994 issue of cyberculture zine Mondo 2000.
Thanks to Claire Evans
Connections