Dr. Ahmet Altiner is a smart guy. He knows that if you give people a way to try things out virtually from the safety of their own homes, they'll start poking around in places they might not otherwise. Sexual fetishism comes to mind. So does having an extra-marital affair. So, now, does getting plastic surgery.
On Nov. 20, Dr. Altiner, a Manhattan-based dermatologist, launched a new online tool called the "Cosmetic Calculator," a web-based application that allows users to upload their own photos and virtually test the results of injecting Botox (botulinum toxin) and Juvederm (hyaluronic acid) into their faces with needles. Based on his clinical experience, taking into account factors like age, gender, and the number of deep lines a face has, the doctor worked with programmers to develop an algorithm that softens lines and wrinkles on-screen while estimating the amount of Botox and Juvederm that softening might require.
Several toggles allow users to smooth specific areas—like the forehead, crow's feet, or nasolabial fold lines—to varying degrees. A counter at the bottom correlates the look to a running number of Botox units or cubic centiliters of Juvederm. (Botox is the most poisonous protein on Earth, and works by cutting off communication between neurons and muscles, paralyzing those muscles. It's safe, as long as it doesn't get spread around the body. Juvéderm, based on a substance normally found in the skin, muscles, and tendons, is an injectible facial filler used to soften deep folds and reduce wrinkles.)
It's a bit early to tell how effective the tool has been—as a reliable measurer of a patient's cosmetic surgery needs, or as a promotional tool. For one, playing with the sliders just seems to soften the image, which isn't particularly realistic. Altiner said that in the first ten days it had been online, the calculator had earned 140 page views, with 20 percent of those being returning viewers. At least one patient has already come back to get Botox after checking it out online, he said.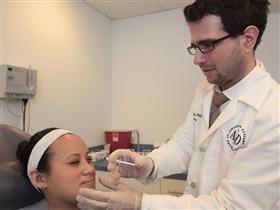 "Probably the person who has benefited most is my nurse," Altiner (pictured left) wrote in an email. "She tends to do a lot of the phone consultations when people call to make an appointment for cosmetics. As you can imagine it is very difficult to answer the question 'do you think 20 units of botox will be enough?' especially when you have not even seen the person."
It's hard to imagine more plastic surgeons won't use or develop tools like this soon. Cosmetic injection is wildly popular in the United States. In, 2011, the American Society for Plastic Surgeons (ASPS) documented 5,670,788 botulinum toxin procedures alone. Its popularity keeps rising. Botulinum procedures in the United States grew by 621 percent from 2000 to 2010. (The procedure was officially approved for cosmetic use by the Food and Drug Administration in 2002, but was first documented in as a useful cosmetic tool in 1989 by a doctor in—where else?—California.) Last year, botulinum use jumped 5 percent compared to 2010; the number of hyaluronic acid procedures—Juvederm and its ilk—jumped 9 percent last year.
Using the calculator—which effectively employs digital retouching effects straight out of Photoshop 101—is a bit blunt as means to precisely assess cosmetic surgery needs. As such, the calculator is probably best regarded as a starting point in the decision-making process—a heuristic not a diagnostic, and, above all, a brilliant marketing tool. Dr. Altiner admits as much, at least implicitly. He certainly doesn't recommend anyone use the tool to self-inject. He hopes, rather, it will be useful in allowing "patients to take a more active, hands-on approach to cosmetics, especially in the consultation phase," he said.
"The cosmetic/ beauty industry is rapidly growing," he continued, "and I think we need more patient education tools so they can make better decisions."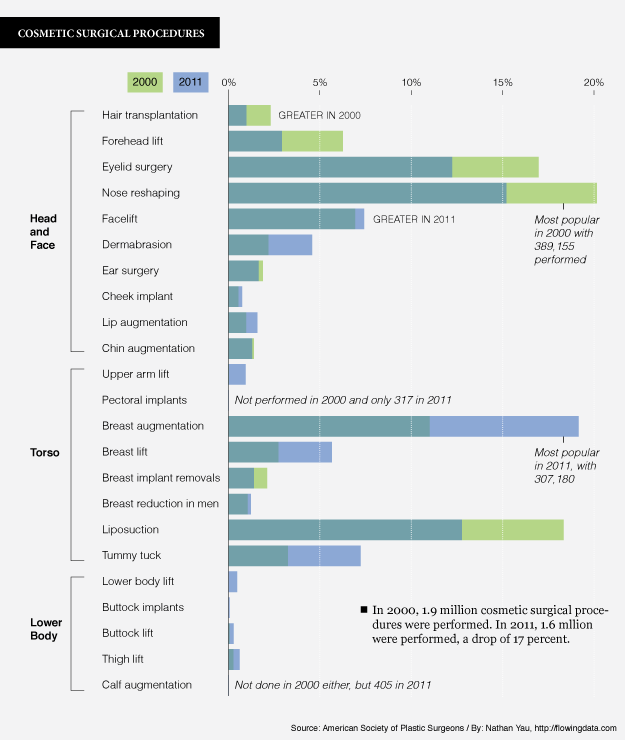 In that respect, the calculator falls in line with a direction in which plastic surgery has already been heading recently. Online tools like the Naturelle 3-D Simulator and Sculpt My Dream, for example, allow women to select a virtual model of their body type based on things like waist, shoulder and cup size, and see what their boob jobs might look like by (ahem) tweaking the variables. (Interesting side note: both simulators assume the woman is white.) As Dr. Altiner noted, his own tool was designed to combine before-and-after features available separately on the Botox and Juvederm websites. (The latter also assumes you are a white lady, and more or less occidental.) His "calculator" is, in effect, a one-stop shop.
"I wanted to combine the two treatments in one software to allow patients a more unified, global 'virtual consultation,'" he wrote. "And of course I wanted the units to be calculated (the other sites did not do this) to take the hocus pocus out of it."
But in what feels a bit like a mass case of Stockholm Syndrome, mounting anecdotal evidence shows that the Internet we're consulting for ways to fix ourselves is the same Internet fostering some of our anxieties. According to a survey released in early 2012 by the American Academy of Facial Plastic and Reconstructive Surgery, a full 42 percent of plastic surgery patients "receive most of their information about plastic surgery from social media, an increase from 29 percent in 2010."
However doctors and journalists are discovering that social media is also heightening the kinds of self-esteem issues that can lead to cosmetic surgery.
In an article I wrote for the Times last spring, I looked at a doctor based in the Washington, D.C., area who had begun offering a service he called the "FaceTime Facelift," named for the popular iPhone app. The procedure was a kind of neck-lift offered in direct response to patient complaints about their video chat image: It removes the double-chin accentuated by looking down into a smartphone camera, and hides the chin scar left by older face-lift procedures—right where a smartphone camera is usually pointing. A Virginia management consultant I interviewed for the story, who wished to remain anonymous, got the facelift because, as she told me, "I think I'm genetically predisposed to aging where the skin that used to be on my face kind of ended up on my neck."
"When you're video calling someone," she added, "you can no longer ignore the fact that it's happening."
Other, similar news articles have emerged, such as this one in which a 37-year-old television producer named Triana Lavey told ABC News she got a chin augmentation because, as she put it "I have been self-conscious about my chin, and it's all stemming from these Facebook photos."
It's tough to quantify just how widespread the phenomenon is: As the ASPS told me, most clinics don't offer "social media" on their pre-screening patient surveys among the reasons to come into the clinic. That's almost sure to change. Dr. Robert Sigal, the D.C.-area plastic surgeon who seems to have coined the term "FaceTime Facelift," told me that he introduced the procedure to serve a pre-existing need: Roughly a quarter of his facelift patients cited their online image as motivation. (Sigal said he performs about 100 a year.)
Anecdotally, it seems clear we've entered a new era of self-consciousness. Just ten years ago one would have to have been a celebrity or politician to have lived so perpetually in front of the camera. Narcissists have long loved their mirrors, but living in front of our own public image is different: we're obsessively watching the selves others are watching. In that sense, tools like the "Cosmetic Calculator" plug right into the zeitgeist.
Rosalind W. Picard, a professor of media arts and sciences at the Massachusetts Institute of Technology, said the phenomenon was hardly surprising when I interviewed her for the Times: "When else have you seen yourself when you're interacting with somebody else?" she said. "It's a reality check that is in our face, literally, more often than we're accustomed to. It's kind of the brutal facts and, like it or not, that's the way it is."